February 2010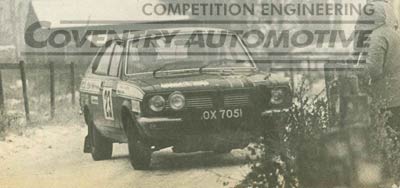 Rallying at the top level was very different in the late 60's and early 70's and the works teams used several different models as a basis for their rally cars. At the time British Leyland Special Tuning were developing and running Marina Coupes alongside Minis and Triumph 2.5 PIs. One particular Marina was prepared for the 1971 RAC Rally and carried Castrol and BBC Wheelbase programme sponsorship. Quite a few photos exist from this car (AOX 705K) and it even appears briefly on the video of the event, 'From Harrogate It Started'.
Coventry Automotive learnt of the existence of this car about fifteen years ago and went to investigate. As it was pushed out of a lockup garage in Kenilworth near Coventry it was clear that the car was basically sound, but had been changed quite a bit from 1971. It had been re-registered and now carries an 'R' registration and a different colour scheme. Much of the original rally equipment had been removed, but enough evidence existed to connect it with 'AOX'. The car was still being used for club rallying and was up for sale.
Not much was known about the car's history, but the person that owned it told us he had bought it from his next door neighbour. He in turn had bought it from storage at Donington when it was sold it off to clear some space. He had bought it for his wife to use as a runabout and had removed a lot of the rally equipment.
Coventry Automotive acquired 'AOX' and have been slowly restoring it when time allowed in the current rallying work. It will be used in the growing Historic Rally scene in the UK and in Europe. Standards of preparation have changed since it was built, in particular the safety requirements, and the car has had to be updated. However it will still be recognisable to the people who were involved back in the seventies.
During the investigation for the rebuild we have unearthed quite a lot of information on Marina rally cars, including some that were used in Australia and New Zealand. Marinas were used by Special Tuning up until 1974 and achieved several excellent results, including 1st in class, 20th overall for 'AOX' on the 1971 RAC Rally driven by Brian Culcheth and Willy Cave.
Coventry Automotive have been given permission to repaint the car in the original Castrol GTX livery to complete the rebuild. Investigations have been made into regaining the original registration for 'AOX', but at the moment this has not been possible. It should certainly surprise many people with its performance and it will certainly attract a lot of interest as it is an unusual rally car.